2015 Census of Population (2015 POPCEN)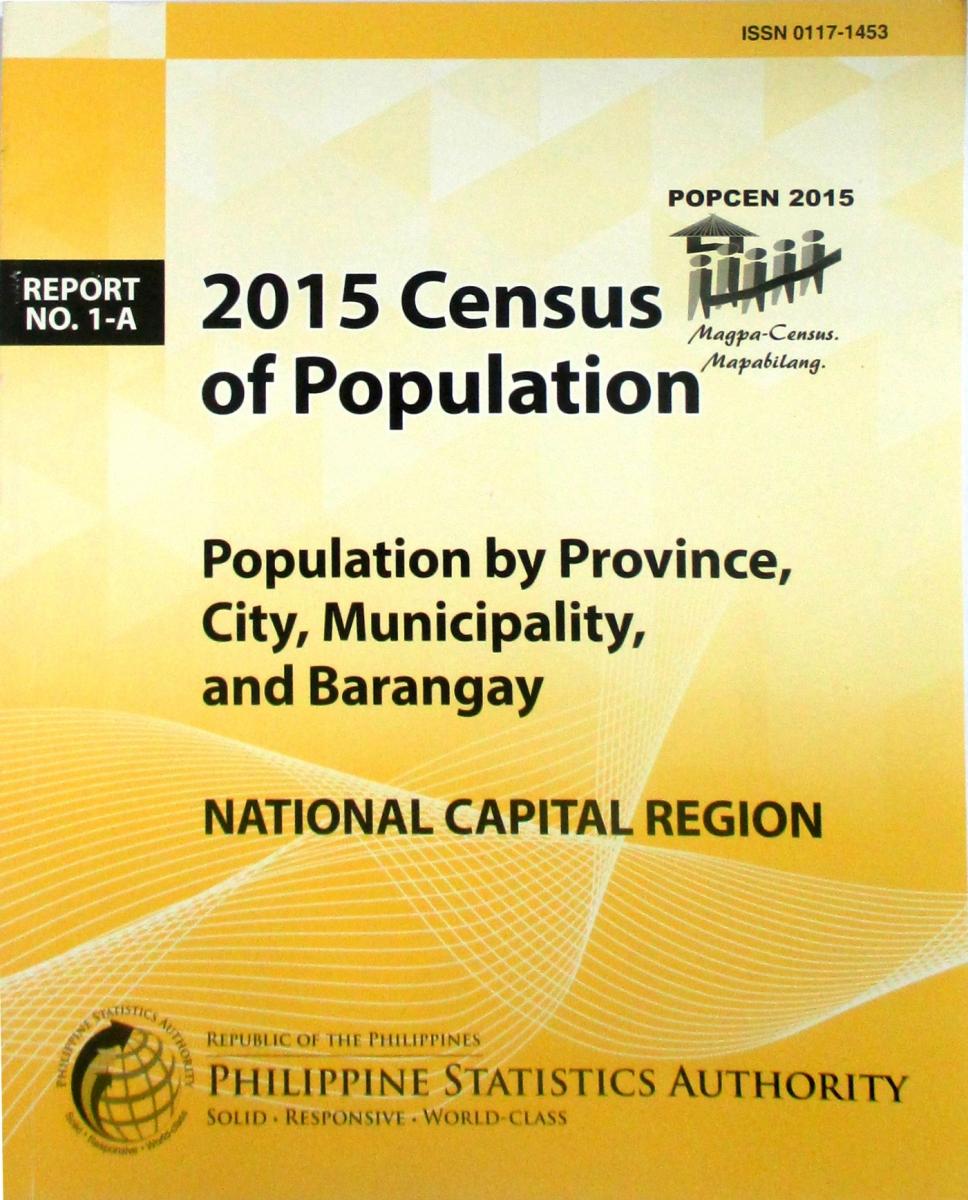 Census of Population refers to the complete process of collecting, compiling, evaluating, analyzing, publishing, and disseminating data about the population in the country.  It entails the listing and recording of the characteristics of each individual as of a specified time and within a specified territory.
The POPCEN 2015, which is a complete enumeration of households in the country, is designed primarily to take an inventory of the entire population of the Philippines. It also collects information about basic characteristics of the population such as age, sex, marital status, religious affiliation, and highest grade/year completed.  It is a source of data on the size, distribution, and composition of the population for different geographic units, that is, at the national up to barangay level. These information are vital in making rational plans and programs towards national and local development.
Objectives
General Objective
            The POPCEN 2015 aims to provide government executives, policy makers, and planners with population data, especially updated population counts of all barangays in the country, on which to base their social and economic development plans, policies, and programs.
Specific Objectives
            Specifically, the POPCEN 2015 seeks to gather data on the:
size, and geographic distribution of the population;
population composition (sex, age, and marital status);
religious affiliation;
school attendance, literacy, highest grade/year completed, and technical/vocational course obtained;
usual activity/occupation, and whether overseas worker for members 15 years old and above;
registration of birth and death;
household-level characteristics such as fuel used for lighting, source of water supply for drinking and cooking;
housing characteristics such as the type of building, construction materials of the roof of the building, construction materials of the outer walls of the building/housing unit, and tenure status of the housing unit/lot; and
barangay characteristics such as presence of selected facilities, establishments; and presence of informal settlers, relocation areas, and in-movers in the barangay due to natural and man-made disasters.
CONFIDENTIALITY OF INFORMATION
All personnel involved in this census are required to keep in STRICT CONFIDENCE any information obtained during the census that pertains to any particular household or person.
            Section 26 of RA No. 10625 stipulates that "individual data furnished by a respondent to statistical inquiries, surveys, and censuses of the PSA shall be considered privileged communication and as such shall be inadmissible as evidence in any proceeding."  This means that the information given by respondents are confidential, hence, cannot be used as evidence in any proceeding before court of law, tribunal or administrative bodies.  This section also specifies that "The PSA releases data gathered from censuses only in the form of summaries or statistical tables, in which no reference to an individual, corporation, association, partnership, institution or business enterprise shall appear."
Likewise, Section 27 of RA 10625 states that "a person, including parties within the PSA Board and the PSA, who breach the confidentiality of information, whether by carelessness, improper behavior, behavior with malicious intent, and use of confidential information for profit shall be liable to a fine of five thousand pesos (P5,000.00) to not more than ten thousand pesos (P10,000.00) and/or imprisonment of three (3) months but not to exceed one (1) year, subject to the degree of breach of information."
AUTHORITY FOR THE CONDUCT OF THE POPCEN 2015
The authority and mandate of the Philippine Statistics Authority (PSA) to conduct the POPCEN 2015 emanates from the Republic Act (RA) No. 10625 and Executive Order No. 352.
RA No. 10625, also known as the Philippine Statistical Act of 2013, which was approved on September 12, 2013, states that "the PSA shall be primarily responsible for all national censuses and surveys, sectoral statistics, consolidation of administrative recording system, and compilation of national accounts."  Specifically, Section 6(b) of this Act mandates the PSA "to prepare and conduct periodic censuses on population, housing, agriculture, fisheries, business, industry, and other sectors of the economy."  
Executive Order No. 352 – Designation of Statistical Activities That Will Generate Critical Data for Decision-Making of the Government and the Private Sector, stipulates the conduct of a mid-decade census primarily to update the population count in all barangays nationwide.
USES AND IMPORTANCE OF CENSUS DATA
Every country needs information on its residents for purposes of planning, development, and improvement of quality of life.  Effective planning necessitates the use of reliable, up-to-date, accurate, complete, and detailed information about the population.  Such information enables both the public and the private sectors to plan for better services, improve the quality of life, and solve existing problems.
Data gathered in the POPCEN 2015 will be compiled, evaluated, analyzed, published, and disseminated for the use of government, business, industry, social scientists, research community, academe, the general public, and other data stakeholders. 
 Among the important uses of the data from this census are the following:
In government:
redistricting and apportionment of congressional seats;
allocation of resources and revenues;
creation/conversion of political and administrative units;
formulation of policies concerning various segments of the population (infants, children, youth, elderly, women of reproductive age, voting age, and working age); and
development of policies and programs relative to the delivery of basic services, such as on health, education, employment, housing, infrastructure, and other socio-economic concerns.
In business and industry:
identification of sites for establishing businesses;
determination of consumer demands for various goods and services; and
improvement of supply of labor for the production of goods and services.
In research and academic institutions:
conduct of researches on population and related disciplines; and
study of population growth and geographic distribution as bases in preparing projections at the national and sub-national levels.