Release Date:
Monday, September 11, 2023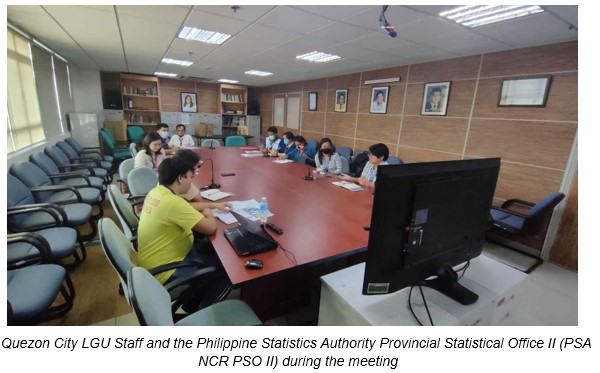 08 September 2023 – QUEZON CITY, PHILIPPINES. The Philippine Statistics Authority Provincial Statistical Office II (PSA NCR PSO II), together with the Local Government Unit of Quezon City (LGU-QC), conducted a meeting at the City Planning and Development Department Conference Room, Civic Center D, Quezon City Hall.
The agenda of the meeting is to provide updates on the 2022 Census of Agriculture and Fisheries (CAF).
Ms. Cynthia S. Laxina, Supervising Statistical Specialist of PSA-NCR PSO II, presented the list of barangays sampled for 2022 CAF from District I to VI and the project timeline.
In District 1, there are six sample barangays particularly Bagong Pag-asa, Bahay Toro, Balingasa, Del Monte, Vasra, Veterans Village. Barangays Batasan Hills, Bagong Silangan, Commonwealth, Payatas, and Holy Spirit are the five sample barangays in District 2. There are three sample barangays in District 3, namely: Matandang Balara, Pansol, and Socorro. In District 4, Barangays Central, Old Capitol Site, Roxas, San Isidro, Tatalon, Teachers Village East, U.P. Campus, Kamuning, and Pinagkaisahan are the nine sample barangays. In District 5, the eight sample barangays are Fairview, Gulod, Kaligayahan, San Bartolome, Santa Lucia, Santa Monica, Greater Lagro, and North Fairview. There are six sample barangays in District 6 specifically Baesa, Culiat, Pasong Tamo, Sauyo, Tandang Sora, and Sangandaan.
Quezon City Mayor Joy Belmonte has previously shown support for the conduct of the 2022 CAF in the video they released in August 2023.
The enumeration for the 2022 CAF officially started on 04 September 2023 and is expected to last until October.
Additionally, updates on the 2023 Community-Based Monitoring System (CBMS) and conduct of activities in celebration of the 34th National Statistics Month were discussed in the meeting.
- Regional Statistics Services Office – NCR PSO II